One to One Nail Training Course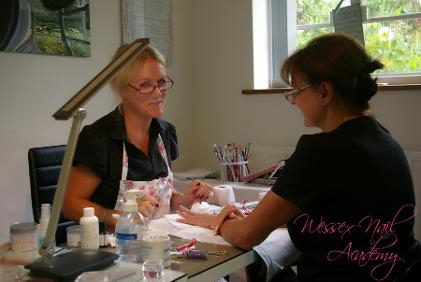 Our one to one nail training courses have been developed as a focused teacher-student environment where you as the student can define what you want to learn, which is agreed in advance with Wessex Nail Academy. This is an ideal opportunity to help develop skills and techniques so that you are fully confident in using them or possibly you may just wish to improve specific current skills and techniques or learn entirely new ones.
Our aims are to ensure that all students have the best possible opportunity to achieve their goals within the nail industry and we at Wessex Nail Academy are here to help you to make this a reality. We aim to share our knowledge, skills and expertise with you and deliver nail training courses, tuition and support to the highest educational standards.
There are many areas you may wish to build upon including:
• Sculpting
• Tip application
• Form fitting
• Advanced nail art techniques
• Preparation
• Perfecting smile lines
• Filing techniques
• Product removal
• Product knowledge
• Brush techniques
Students must bring in their full Kit and tools and a model will be required.
One to One Nail Training Course Cost
£30.00 per hour
Bookings are on request
This one to one nail training course is accredited by ABT and a certificate of attendance will be issued.
All Nail Training Courses are Associated Beauty Therapists Accredited